Over the last year Sasha got way into Ramen. She's soft boiling eggs, making her own broth, growing basil, making me take her to the best Philly spots (Hiro, 11th & Chestnut), etc. but after a lot of trial and error I think we've settled on a god tier ramen recipe that's easy to make. It's vegetarian (and I think vegan if you skip the egg).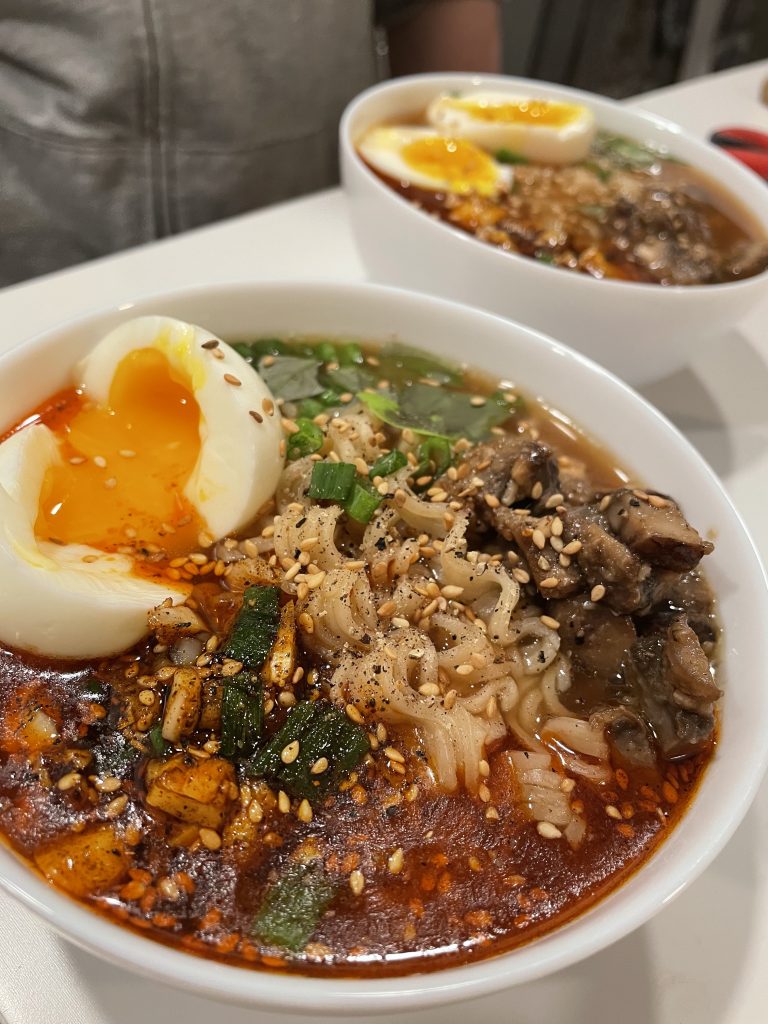 Serves 2 people
Ingredients
2 packs of Soy Sauce instant ramen
Some mushrooms
Vegetable oil (Grapeseed or canola oil are fine)
2 eggs
Green onion (you have some growing in your kitchen right?)
Sesame seeds
2 cloves fresh garlic for mushrooms
3 cloves fresh garlic for chili oil
1 tablespoon chili powder
1 tsp red pepper flakes
Trader Joe's umami seasoning

Mushrooms
Chop up the mushrooms and 2 cloves of garlic. Sautée them together in a pan with some oil and sprinkle some of the umami season in there. You won't need a ton for the ramen, but save whatever you don't need and use in tomorrow's batch.
Soft boiled eggs
Bring some water to a boil. Make a separate ice bath with some ice cubes and water. Carefully put in the eggs and boil for 6 minutes, then move to the ice bath for 4.5 minutes. Peel the eggs and set aside until the ramen is done. Some people think its easier to peel them under cold running water, but I don't. If at all possible, make someone else do this for you.
Chili oil
Put sesame seeds, chili powder, red pepper flakes, chopped green onion (chop with scissors), and chopped garlic in a mixing bowl. Heat a small amount of vegetable oil in a pot until it is hot, then pour into the mixing bowl. It's magical. Stir it a little. If you want to get real fancy, add whatever else you want here, too. Ginger, basil, etc.
Ramen
Make the ramen as usual, but use 3 cups of water instead of 4. Add a pinch of salt to the water. Boil the noodles for just under 3 minutes and add the seasoning packs. Split the ramen evenly into two bowls. Stir in 2-3 spoonfuls of your chili oil. Toss in some mushrooms. Cut in half your soft boiled eggs and place one in each bowl. Scissor chop more green onions on top and sprinkle more sesame seeds. Take a photo for the gram and watch the fire emoji roll in.
If it's not salty enough, add a little soy sauce, but otherwise it should be incredible.
Thank you to everyone who helped develop this recipe, mainly Sasha, Carolyn Busa, and the InstaNoodls guy on TikTok.